The tune "Walking In A Winter Wonderland," is playing in my mind as I write this years annual holiday Guide.  I can't believe that Thanksgiving is only a few days a way and it's that week most families start to get out to enjoy winter festivities. Ever year it sneak ups on us fast; and believe it or not Christmas is already less than a month away and many festivities have already begun. This guide will highlight winter festivities, holiday happenings, lights displays and Santa sightings for Southern Maryland and DMV Family's. Happy Holidays from The Playful Parent!
---
SPECTACULAR HOLIDAY DISPLAYS
---
ANNMARIE GARDENS IN LIGHTS
Date: November 25, 2022– January 1, 2023 (5-9 PM ) *Closed some evenings*
Place: Annmarie Sculpture Garden & Arts Center- Solomons, MD
Price: ADVANCE TIMED-ENTRY TICKETS REQUIRED for everyone! Annmarie Members: FREE (must reserve tickets); Non-members: $15; Ages 2 & under: FREE
Information: Walk through the wooded path and enjoy lighted vignettes of famous people, places and works of art. Look for hidden treasures in the trees and green shamrocks in each vignette. Be sure to check out their special events calendar for train display nights, local hero free admission days and Santa Sundays.
B&O RAILROAD HOLIDAY TRAIN RIDES
Date: Now – December 31, 2022 *Closed Christmas Eve & Christmas*
Place: B&O Railroad in Baltimore, MD
Price: $ Price Depends on adventure
Information: Nothing is more magical than a holiday train ride. Weather you take an adventure on the Polar Express or visit during the Holiday train display you are sure have a memorable time.
BOTANICAL GARDENS HOLIDAY DISPLAY
Date: November 24, 2022– January 2, 2023 *Closed Christmas Eve & Christmas*
Place: US Botanical Garden- Washington, DC
Price: FREE
Information: The United States Botanic Garden will feature an outdoor holiday display in 2021. Festive adornments, winterberries, lighted trees and shrubs, and conifers and greenery on display. Don't miss the popular train display!
BROOKESIDE GARDENS GARDEN OF LIGHTS
Date: November 24, 2022– January 2, 2023 *Closed Christmas Eve & Christmas*
Place: Brookside Gardens, 1800 Glenallan Ave., Wheaton, Maryland
Price: $10 per person/ Ages 3 and under FREE
Information: Walk thru this beautiful display of holiday lights that features more than a million colorful lights. Following your walk among the lights, warm up inside the Conservatory and enjoy a colorful display of holiday poinsettias, flowering plants and evergreens.
BULL RUN FESTIVAL OF LIGHTS
Date: November 11, 2022 to January 2, 2023 *Closed Christmas Eve & Christmas*
Place: 7700 Bull Run Dr, Centreville, VA 20121
Price: $30-$40 Depending on what night you go. Take advantage of the discount for purchasing online. Use promo code early22 to save $10 November 11-20, 2022. Valid every day including weekends. Use promo code lights22 to save $5 November 21- December 15, 2022. Valid Monday- Thursday. No holidays or weekends.
Information: Every year from Thanksgiving until just after New Year's Day, you can experience the Bull Run Festival of Lights, 2.5 miles illuminated by holiday light displays. Drive the festival route from the comfort of your car; turn out your headlights and just follow the magical glow. After viewing the lights, bring your family and friends to the holiday village to enjoy rides, refreshments, and of course, photos with Santa Claus (holiday village open select nights). The festival happens annually at Bull Run Regional Park in Centreville, Virginia.  Monday – Thursday 5:30 p.m. to 9:30 p.m. Friday – Sunday and Holidays 5:30 p.m. to 10:00 p.m. (Holidays include November 23, December 24, 25, 31, and January 1).
BUSCH GARDENS CHRISTMAS TOWN
Date: November 18, 2022 -January 2, 2022
Place: Busch Gardens, Williamsburg, VA
Price: Cost of Admission to park/ FREE to Season Pass Holders
Information: Christmas shines brightest at Busch Gardens Christmas Town in Williamsburg, Virginia. The world's most beautiful theme park is aglow with over 8 million Christmas lights, making it the largest Christmas light display in North America. Enjoy kid-friendly, thrill rides, merry entertainment and dining options. Stay warm with a mug of the park's signature peppermint fudge hot chocolate, meet Santa Claus in the North Pole and capture an unforgettable memory with a Christmas photo. Most of all, enjoy this most wonderful time of year with friends and family. CHRISTMAS TOWN PLAYFUL PARENT GUIDE
CHRISTMAS AT THE GAYLORD HOTEL & ICE!
Date: November 20, 2022 – December 31, 2022
Place: National Harbor
Price: $
Information: There is no better way to celebrate the holidays than gathering your family for Christmas at Gaylord National Resort & Convention Center in National Harbor.  Enjoy the region's most beautiful Christmas decorations. With thousands of twinkling lights and a 55-foot tall Starlight Christmas tree suspended over our indoor garden atrium, you'll be filled with holiday cheer. Enjoy Free activities: Nightly Tree lighting, Sunday Holiday movies on the Potomac and more.  Extra activities such as: ICE! returns this holiday season! Step into a wonderland carved by expert artisans out of two million pounds of colorful ice. You'll see the story of A Christmas Story!™ in larger-than-life sculptures and even plunge down slides made entirely of ice in this Gaylord Hotels original experience.
DAKOTA'S EQUINE (FLAT IRON FARM) CHRISTMAS
Date: November 24-26, 2022 (5-9PM)/ November 27, 2022 (5-8PM)/ December 10, 11, 17, 18 & 23 (5-9PM)/ December 12, 19 & 24 (5-8PM) *Closed Christmas*
Place: 45850 Flat Iron Farm, Great Mills, MD
Price: FREE admission
Information: Lights display will be partial this year; both horse barns will be open and the local tack shop. Additional fee for photos with Santa, crafts and pony rides.
ENCHANT DC
Date: November 25, 2022 – January 1, 2023 (5PM – 9PM) *Closed Christmas*
Place: National Park – Washington, DC
Price: Admission $
Information: Unwrap new traditions and make memories big and small as you wind your way through a luminescent land of beautiful arches, larger-than-life sculptures and decadent delights. Welcome to Enchant. Where magical memories are made.
FESTIVAL OF LIGHTS- Snowy Winter Wonderland
Date: November 25, 2022- December 23, 2022 (6PM-10PM Select Nights)
Place: Regency Stadium, Waldorf, MD
Price: $12 Adults/ $7 Kids Ages 3-15 (3 & Under FREE)
Information: NEW! Snowy Winter Wonderland Presents a walk-through family event to experience and enjoy this coming Christmas Holiday in Southern Maryland! With over an acre of Christmas lights & decor on the baseball field itself to walk along, craft vendors, food vendors and of course a chance to visit with Santa himself, there will be plenty to see and memories to be made with family! https://snowywinterwonderland.com
KRIS KRINGLE MARKET
Date: December 9-11, 2022
Place: Charles County Fair Grounds- La Plata, MD
Price: $5 Admission (Ages 10 & Under FREE)
Information: Modeled after the famous markets in Germany, this annual event at the fairgrounds offers light displays, holiday food, handmade crafts from local artists/crafters, children activities, shopping, music, and much more.
LIGHTS ON THE BAY
Date: November 20, 2022– January 1, 2023 (5pm – 10pm) *Including holidays*
Place: Sandy Point State Park
Price: $20 Per Car
Information: Head to Sandy Point State Park from November 24th to January 1st. Not only will you see Christmas lights, but 3D glasses are available for purchase to make your experience even more amazing.
SOMD HOLLY JOLLY LIGHTS TRAIL
Date: December 8, 2022-December 26, 2022
Place: All over Southern Maryland
Price: FREE
Information: ENJOY CHRISTMAS lights this holiday season. Register your home if you have a lights display up. Registration is Nov. 19- Nov. 28. Routes for the trail will be available starting Dec. 10. The community will be able to vote for their favorite light display starting Dec. 10- Dec. 26. The top 5 winners will be announced on Dec. 27. You will find a map of the residential home lights displays by visiting their site  www.somdxmaslights.com
ST CLEMENETS CHRISTMAS DOLLS AND TRAINS EXHIBIT
Date: December 1, 2022– January 1, 2023 (12:00 PM – 4:00 PM) *Closed Christmas Eve & Christmas*
Place: St. Clements Island Museum, 38370 Point Breeze Road, Coltons Point, MD
Price:  $3 Adults/ $1.50 Children 6 – 18, FREE Children 5 and under.
Information: Exhibits will feature special doll collections from the Black-eyed Susan and Southern Maryland Doll Clubs. Dolls will be arranged to depict Christmas scenes and vignettes of Chesapeake coastal living in the early 20th century.
SYMPHONY OF LIGHTS 
Date: November 24, 2022- January 1, 2023
Place: 10475 Little Patuxent Pkwy. Columbia, MD
Price: The price is $20 per vehicle, except for walk-thru nights
Information: The Symphony of Lights has been a time-honored Howard County holiday tradition enjoyed by many for over 25 years. Set in historic Merriweather Post Pavilion and made up of more than 300,000 bulbs, this family-oriented spectacular is a dazzling display of larger-than-life animated and stationary holiday light creations. With the addition of new lights (and a 150 foot screen!), your time through our refreshed course guarantees a night to remember.
WINTER FESTIVAL OF LIGHTS AT WATKINS REGIONAL PARK
Date: November  25, 2022- January 1, 2023
Place: Watkins Regional Park, 301 Watkins Park Drive, Upper Marlboro, Maryland
Price: $10 Per Car Advanced Purchase/$15 Per Car On-site (Free admission November 29 & December 25 in appreciation to the residents of Prince George's County for their year-round support of the Department of Parks and Recreation programs! Make a difference this season! Please bring canned goods for donation to local Food Banks.)
Information: Join in celebrating the 30th anniversary of Watkins Park's Winter Festival of Lights by driving thru a spectacular holiday display of more than one million lights and one of the tallest tree displays in Maryland. Participants are encouraged to bring a canned or nonperishable good to be donated to a local food bank.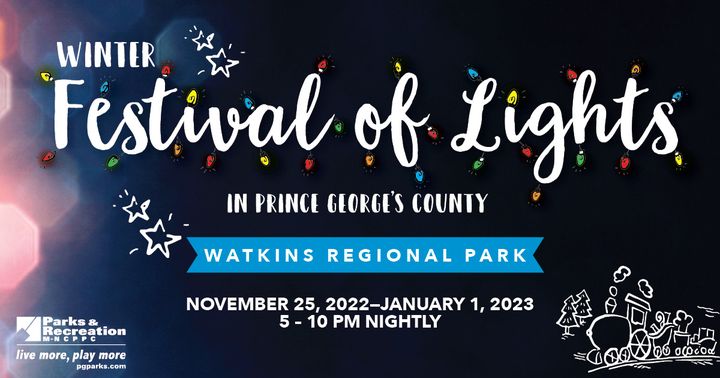 WINTERFEST- KINGS DOMINION
Date: November  25, 2022- January 1, 2023
Place: 13710 Central Ave, Upper Marlboro, MD
Price: Park Admission
Information: Kings Dominion's WinterFest is an unforgettable holiday experience where the 400-acre amusement park transforms into an enchanting winter wonderland. The annual event features ice skating on the International Street Fountain, the Eiffel Tower turned into a magical 315-foot-tall Christmas tree, the WinterFest Wonderland Parade, millions of brilliant lights and live entertainment throughout the park. Plus, experience more than 20 rides including Twisted Timbers, Dominator and Blue Ridge Tollway Antique Autos. Virginia's premier holiday event opens Nov. 25, the day after Thanksgiving, and is open select nights through January 1.
---
SHOWS AND SHOW CASES
---
Check out these spectacular shows coming to the stage this holiday season!
Synetic Theater presents Snow Maiden December 1-23, 2022 at Synetic Theater in Arlington, VA
The Washington DC Ballet Company Presents The Nutcracker November 25, 2022- December 30, 2022 at Warner Theater in Washington, DC
National Theatre Presents A Magical Cirque Christmas December 16-18, 2022 in Washington, DC
Port Tobacco Players Presents  Hello Dolly- November 25-December 18, 2022 8PM Fri & Sat/3PM Sun at Port Tobacco Players Theater in La Plata, MD-$
Patuxant Presbyterian Church Presents Sing We Now Christmas November 27, 2022- December 11, 2022 (Sun) 9:30 AM – FREE
Choral Arts Society Presents Classical Melodies- December 3-4, 2022  7:30PM/3:30PM at St. Joseph's Church in Pomfret
December 10, 2022- Once Upon A December 7PM at Christ Church in La Plata- $
---
WINTER EVENTS
---
This is a list of the all the holiday festivals and events discovered in our area. I will continue to add to this list and keep it updated. Some of these events are weather contingent or require advanced ticketing, so always check event sites before attending. The best way to stay up to date with planning your family fun is by using the calendar for detailed information, event links,
Thank you for following The Playful Parent. All Information in this article is my own non-biased opinion. The Playful Parent is not paid to endorses organizations. All content is property of The Playful Parent. I hope that the resources continue to help and bless your family.  From our family to yours… Happy Holidays!